Highest-Rated Bed Bug Exterminators in Upper East Side, NY.
Getting a good night's rest is important, but if you have unwanted house guests like bed bugs in your home, you might not be getting the rest you need. If you have a feeling bed bugs have entered your home, work with Above & Beyond Bed Bug Exterminators, the highest-rated pest control company in Upper East Side, NY. Our Eco-Friendly bed bug treatment in Upper East Side - NYC, NY and surrounding areas eliminate bed bugs quickly and efficiently so you can sleep soundly once again!
---
Bedbug Steam Treatment Service
We begin by using a vacuum and a specialized bed bug steamer. The vacuum and the steamer are useful tools for cleaning up heavily infested areas. This powerful unit produces a super-heated steam that kills any bed bugs and eggs with one pass. Bed bugs cannot survive temperatures over 122 degrees Fahrenheit, and the steamer reaches a temperature of 356 degrees Fahrenheit.
Furthermore, our steamers produce enough pressure to penetrate cracks, crevices, and other hard-to-reach places where bed bugs love to hide. Whether it's your mattress, box spring, sofa, or other upholstered pieces of furniture, water vapor transfers heat deep into the fabric killing bed bugs hiding out of sight. In the end, this initial phase of the treatment will kill over 95% of bed bugs present in the home.
After vacuuming and steaming, eliminating the small number of remaining bed bugs and preventing re-infestation comes with our next phase - the chemical treatment.

Cryonite Rapid Freeze Treatment
Bed bugs cannot survive extreme cold temperatures. In freeze treatments like Cryonite freeze, bed bugs are exposed to temperatures below 32 degrees Fahrenheit. Rapid freeze uses a pressure hose to propel dry ice solid killing the bed bugs on contact. Unlike steam treatment, this method fails to penetrate soft fabrics.
Get a Bed Bug-Free Home Fast.
When it comes to bed bugs every infestation is unique. That's why we offer customized treatment plans to help get rid of every last bug. Our experienced and highly trained Upper East Side - NYC, NY bed bug treatment exterminators inspect your home thoroughly to identify where bed bugs are hiding. Then, we choose the best treatment options for your home. The result is a comprehensive and customized treatment plan that restores your home to a bed bug free in no time! Our bed bug exterminators are in Manhattan, Brooklyn, Queens and Bronx NY.
CALL NOW: (929) 482-BUGS
---
A Bed Bug Free Home – Guaranteed!
Here at Above & Beyond Bed Bug Exterminators, we want to make sure you feel comfortable in your own home as quickly as possible. To help you feel more at ease, each and every one of our bed bug control treatments come with our professional guarantee. If you find bed bugs in your house after we've treated your home, simply let us know and we will gladly return to retreat the area absolutely free. We are dedicated to providing you and your family with a home where you can relax.
---
Bed Bug Exterminator Cost.
Each home and infestation is different, so a one size fits all doesn't usually work. We offer Low Cost Home Inspections where we come out and give you a no-obligation inspection and quote. Our treatments are eco-friendly, safe for pets and children.
---
Bed Bug Exterminator Upper East Side - NYC, NY that is family owned & operated.
A bed bug exterminator is someone that a homeowner must find quickly and this company must be experienced and efficient. The problem needs to be handled by the experts and learning the availability of these professionals can be a bit of a hassle. As a precaution, homeowners should vet exterminators when they first purchase a home and look for a service company that offers excellent reviews to get rid of bed bugs if and when they infest the home.
CALL NOW: (929) 482-BUGS
---
Why You should use a Bed Bug Experts Over General pest control Exterminators to Get Rid of Bed Bugs
A specialized pest control company is undoubtedly your best helpmate when it comes to getting rid of those annoying bed bugs in your home. Many pest companies can be found all over the place today, but very few of them can get the job done as desired. Many of them lack the required in-depth knowledge about how to handle bed bugs. In fact, many pest control companies are started with the sole purpose to make get started as quick and cheap as possible and sell themselves to a bigger company like Orkin. (This is not us, All Out Bedbug Exterminator is a local company here to stay) Consequently, you will not get the right value for your money when you hire them. If you have a bed bug infestation you should go with a specialized bed bug exterminator rather than generic pest control companies that have limited knowledge and can only deliver poor bed bug removal services. The points given below will further enlighten you on why you should specifically search for a bed bug exterminator near me, rather than generic pest control companies.
---
Reduced reliance on pesticides
Most of the professional bed bug experts do not depend on specific insecticides for removing bed bugs. Bed Bugs are very unique and a general spray that most companies use for spiders, fleas, and ants will not treat for bed bugs. A DIY person or unprofessional exterminator will usually misapply toxins while removing bed bugs and this can prove too dangerous for those residing there. Wrong or excess application of toxic compounds for the extermination of bed bugs can cause your family members to fall sick. It is on record that many of the generic pest control companies apply just any chemical, which may have little or no effect on the bed bugs; this is never the case with specialized bed bug exterminators; the specialists only use chemicals composed purposely for bed bug removal, which ensures a quick resolution of the problem. However, Our specialists are licensed and trained to use the correct bed bug spray as well, as the new and most effective bed bug treatment called Aprehend, known as Fungal treatment. Bed bug specialists also scrutinize the situation before deciding on any particular line of action. Although bed bug spraying for bed bugs can be effective and be a good fit for those on a low budget it is always recommended to go with the Aprehend treatment because it is the most effective and safest bed bug removal treatment around. In some cases, a combination may be necessary.
CALL NOW: (929) 482-BUGS
---
Less cleaning
The use of specific chemicals by a bed bug company removes the need to carry out extensive cleaning after the bed bug extermination. It will equally be easy to sanitize the home after the entire process so that the smell of the toxic products can be removed effectively and quickly to create a safer interior than ever. The use of Aprehend method can even eliminate the need for total preparation or special cleaning after the bed bug removal process. However, it is still recommended to clean bed sheets and vacuum your home regardless after a treatment to remove any dead bed bugs or eggs that might have been left behind..
---
Money Saving
Reliance on specialized bed bug experts can save you a lot of money. As hinted earlier, the specialists use bed bug sprays and heat treatment that actually work and most will offer a protection guarantee, coming back for free if not resolved whereas many general pest control companies plan on having to come for multiple treatments and give you a lower initial cost to get you in the door. Conclusively, the specialist bed bug removers will give you more value for your money at a far lower price than the generic pest control companies. Along with giving you more value, local bed bug companies are far more reasonable than pest control franchises. Franchises have a lot more overhead and marketing costs they have to calculate as compared to many local companies. Most local companies are less expensive, plus you are supporting a neighbor instead of franchise companies where the company headquarters is on the other side of the country.
---
More About Bed bugs.
Adults Bed Bugs can survive for up to 6-7 months if they are well fed and they can feed on other animals if humans are not present. Bed bug infestations have been found in transportation vehicles such as boats (including cruise ships), trains, airplanes, and buses as well as in movie theaters where they typically harborage in seats and associated frames. For individuals Bed Bugs can be a huge nuisance, however, for businesses they can be a huge expense and public relations nightmare.
---
How to Identify Bed Bugs in your
Upper East Side - NYC, NY Home or Business.
Adults Bed Bugs measure 3/16 inch long, and are broadly oval and flat and are amber to reddish brown in color, depending on how recently they fed. A bedbug has piercing-sucking mouthparts which enable it to pierce the skin and suck blood from its victim. When present in sufficient numbers, it is possible to detect an obnoxiously sweet or foul "locker room" odor, which is emitted from their glands. Bedbugs are generally active only at dawn, with a peak feeding period about an hour before sunrise. Because of their dislike for sunlight, bedbugs primarily come out at night. They are attracted by warmth and the presence of carbon dioxide. The bug pierces the skin of its victim with two hollow tubes. With one tube it injects its saliva, which contains anticoagulants and anesthetics, while with the other it withdraws the blood of its victim. After feeding for about five minutes, the bug returns to its hiding place. The bites cannot usually be felt until some minutes or hours later, with the first indication of a bite usually coming from the desire to scratch the bite site.
---
Bed Bug Exterminator Treatment
in Upper East Side - NYC, NY .
In order to completely eliminate bed bugs from your Upper East Side - NYC, NY home or business, it's necessary to treat more than just the room where people are getting bitten by bed bugs at night. Most of the bedbugs will be in the room close to the person getting bitten, but they can travel quickly across floors, walls and ceilings. They can also get spread around your Upper East Side - NYC, NY home or business when items are moved such as; clothing. Above & Beyond Bed Bug Exterminators will determine the best bed bug treatment upon inspection of your Upper East Side - NYC, NY home or business.
We use the latest technology in chemical application and vacuuming to maintain the highest level of pest Removal in your facilities.
---
Bed Bug Facts:

Bed Bug Removal requires a thorough insecticide application to living areas and bedrooms.

Key to Removal is thoroughness of treating all cracks where bedbugs can hide.

Treat cracks and crevices at baseboards, ceiling edges, loose wallpaper, curtains and other areas.

Outlet and switch plates are removed and treated behind with dust.

Furniture is treated on the underside, under cushions and other areas that are not contacted.

Effect of the application may be noticed in a couple days but complete Removal may take weeks depending on level of infestation.

Additional insecticide applications may be necessary depending on level of infestation and thoroughness of preparation.
For a Bed Bug Inspection or Bed Bug Treatment in Upper East Side - NYC, NY call Above & Beyond Bed Bug Exterminators today
CALL NOW: (929) 482-BUGS
What has become the new nightmare, the lullaby has now become reality. These insects have been found in all types of dwellings & transportation vehicles. Generally bed bugs hide in box springs, mattresses, bed frames, couches, chairs, window & door moldings, behind wallpaper & pictures, under carpet, cracks in the hardwood floors, wall voids, and outlets. However, as they populate and spread in our country, they can be found almost anywhere. They feel safest near their host (preferably a human) and stay near the resting, which is usually the bed.
The fastest growing pest problem in the country is the bed bugs. Commonly associated with multi tenements and hotels, the bed bug is an outstanding hitch hiker and can end up in retail stores, library's, hospitals and YOUR home. As a financial capital of the world with one of the busiest airports in the country, Upper East Side, NY is home to some of country's most diverse communities. Travelling businessmen and women make it one of the countries top 25 infested cities.
If you or members of your family travel for work, attend school, camp, go on vacation, or even just spend a night catching a movie at a local theater.  You are at risk for bed bug infestation.
The bed bug does not discriminate who they go home with and does not have a preferred zip code, so they can be found in the inner city neighborhoods of Lower East Side and Dead End Streets of Bayside.
Get rid of your BED BUGS in Upper East Side - NYC, NY.
---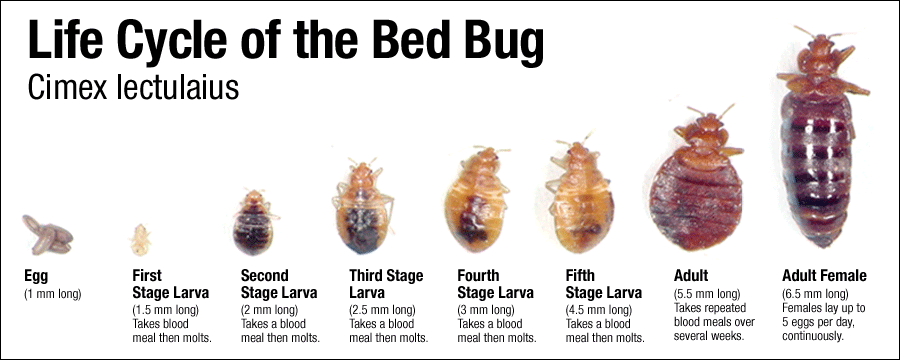 ---
National Geographic Bed Bug Video
Watch the video to learn more...
---